News from NORLA
Meet Hanne Gjerde Buch and Jenny Synnøve Naustan - Selected Title Authors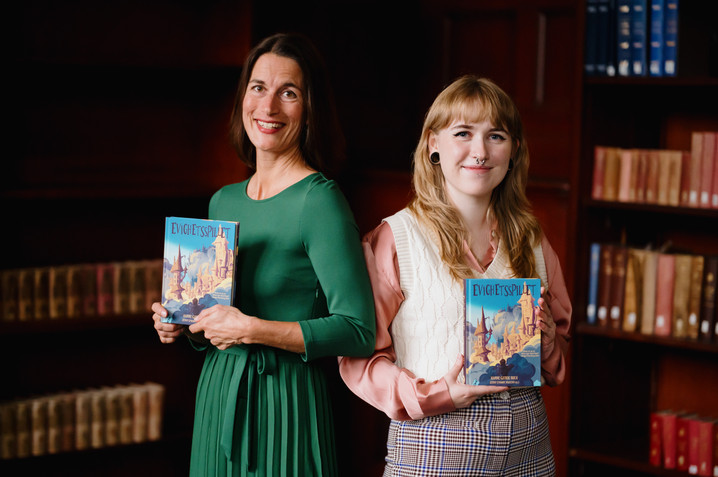 From the left: Hanne Gjerde Buch and Jenny Synnøve Naustan. Photo: Fartein Rudjord/NORLA
We are happy to present our selected title author Hanne Gjerde Buch and illustrator Jenny Synnøve Naustan. Together they have made The Eternity Game (original title: Evighetsspillet), which is one of NORLA's Selected Titles of the autumn 2022.
Read our short interview with Hanne here.
What is the book about?
This book is about a boy, Kian, who struggles to go on in life after his mother dies. He has programed a computer game with his mother, The Eternity Game. One day, Kian gets a mysterious message on his computer, which invites him into The Eternity Game to meet his mother one final time. Kian has 24 hours to save his mother and get back home, or he'll be trapped in The Eternity Game forever.
What inspired you to write this book?
I think many books are better if the author bases it on something personal. This is what I did with The Eternity Game. When my children were young, I became severely ill. Fortunately, I recovered, but I have thought a lot about how it is for families who are not as lucky. How a parent's death affects the child. With this book, I hoped to show that life can be good again, and that the memories we hold of those we lose stay with us after they die.
Read more
See full presentation of the book here
Read more about the author/illustrator here
See all NORLA's Selected Titles for the autumn 2022 here