May 25-May 27 2017
Norwegian sports- and cultural delegation to China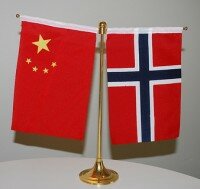 A Norwegian sports and culture delegation led by the Culture Minister, Mrs. Linda Hofstad Helleland, is visiting China at the end of May. The delegation includes among others the author Jostein Gaarder and NORLA's director, Margit Walsø. Chinese readers are already very familiar with Gaarder's books, since a grand total of 16 have already been published in Chinese!
A central part of the delegation's cultural programme is renewed and strengthened cultural collaboration with China.
The Culture Minister, Jostein Gaarder, Margit Walsø and other delegates will meet the director of China's National Library, as well as visiting Beijing Foreign Studies University. They will also participate in the programme during a seminar on Norwegian literature at Peking University entitled "From Sophie to the World". The seminar is arranged by the Norwegian Embassy in Beijing, Peking University Literature Department and two publishers, Jieli Publishing House and Writers Publishing House. The seminar programme will include an introduction to Norwegian literature, a conversation with Jostein Gaarder and a panel discussion between Gaarder and Chinese literature and philosophy academics. There will be an opportunity for questions from the public.
The delegation will also meet the Chinese press during their trip.
In addition to the joint programme, Jostein Gaarder and Margit Walsø will meet pupils at Shijia Primary School for a conversation about the book Hello, is anybody there?.
Among other activities, Culture Minister Helleland will also visit the Forbidden City and open an exhibition of works by Håkon Gullvåg at the Academy of Art in Tianjin.
During the trip, the cabinet minister's activities will include following up on the content of the collaboration agreement on sport that Prime Minister Erna Solberg signed on her visit to China.
Norwegian literature and NORLA in China
The past few years have seen a record expansion in Norwegian literature in China and Taiwan. An increasing number of authors are achieving major success with Chinese readers and critics alike. Children's books and non-fiction are especially popular.
Read about NORLA's activities in China here.
See the covers of the many Norwegian books that have been published in Chinese with translation support from NORLA (up to and including 2011) here.
At the major Chinese book fairs, NORLA presents informational material about current Norwegian literature in both Chinese and English.
See the selection from the past two years here:
Shanghai Childrens Book Fair 2016
Beijing 2016, Children/Young Adult
Beijing 2016, Non-fiction
Beijing 2016, Fiction
Shanghai Childrens Book Fair 2015
Beijing 2015, Children/Young Adult
Beijing 2015, Non-fiction
Beijing 2015, Fiction