News from NORLA
Lots happening later in the Autumn - not least in Frankfurt!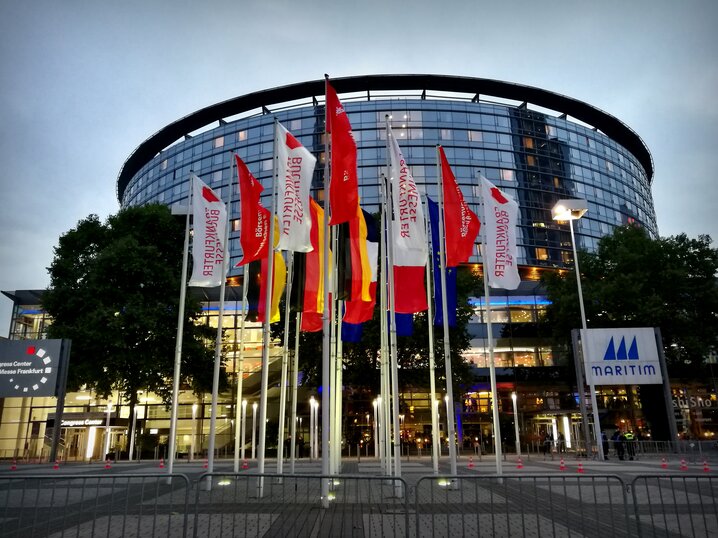 Frankfurter Buchmesse is one of many highlights in NORLA's calendar this autumn. Photo: Hege Langrusten
Here you will find details on a l l of our upcoming events.
Today saw the start of the Gothenburg book fair, and we are looking forward to participating, along with the five authors taking part in Autumn's New Voices program.
Read more.
Soon we also set course towards Frankfurter Buchmesse, where there will be a record amount of Norwegian participation, with several authors contributing both at readings, and also at the press conference where Norway will present itself as next year's Guest of Honour. On the last day of the fair we will formally take over the so-called Guest Scroll from this year's guest country Georgia, in a ceremony where we will have an artistic accompaniment from both an author and talented musicians.
See all details here.
Following the Frankfurter Buchmesse, NORLA will take part in the Swiss festival Literaturtage Zofingen to present Norway's Guest of Honour-project at the Frankfurter Buchmesse 2019.
Read more
NORLA and author Torkil Damhaug will also take part in Innovation Norway's events for their press contacts in Zürich and Hamburg.
Read more.
In October we also look forward to welcoming four new translators to Oslo who will stay at NORLA's translator's hotel, for the ninth season of this popular scheme.
Read more.
We also have great expectations of the Norwegian literary activities in Japan in November, we will be travelling there with two of the authors from the New Voices program and a central translator.
There are events planned in three cities; a translation seminar in Osaka, a seminar on gender equality and Norwegian family policy in Kyoto, and in Tokyo we will be participating at an industry showcase as well as a seminar about Ibsen.
Read more.
NORLA will be participating as usual in the Non/Fiction book fair in Moscow along with authors.
Read more.
And in December we will be travelling to Copenhagen for an book trade meeting on Children and Young Adults literature.
Read more.
We look forward to meeting as many of you as possible during the Autumn!
See the complete overview of where/when you can find us – plus info. on all our application deadlines – here.
Do you want to arrange a meeting with us? Get in touch!